Buy POE Currency - buy POE Orbs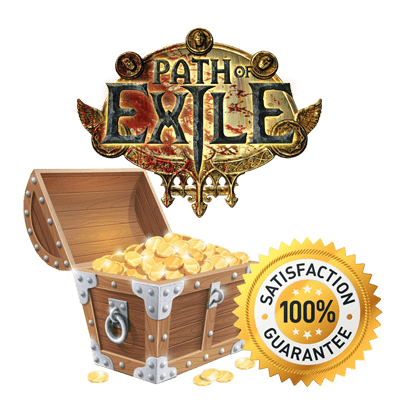 Looking for some reliable and safe source to buy Path Of Exile orbs? Look no further as Sellers and Friends got your back. You found the best place and time to buy PoE orb. We always check our sources and choose the safest delivery method possible in the game. It's not that easy to farm the POE Currency - orbs, which is why we decided to provide players with them, as well as a lot of other in-game currencies. Look around and see if anything suits you.
How to purchase POE Orbs?
If you want to buy Path of Exile orbs (buy poe currency) simply follow those steps:
Choose the amount of PoE orbs you would like to purchase or the amount of USD you would like to spend
Type in your contact details into the forms boxes
Verify the contact data
Carefully check your order in the orders preview
Choose one from over 200 payment methods
Our live agent will guide you through the rest of the process
Our offer supports PC normal and Steam accounts
Path of Exile currency - All about POE Currency

PoE orbs (currency) are not that easy to get, unless you are buying them on Sellers and Friends. The best online POE currency trading platform out there is capable of delivering Path of Exile orbs lightning fast - in less than 120 seconds after the payment is through. Compared to competition, you can call it instant delivery. Opened 18h/day, 7 days a week, providing with the best possible services. It's all possible because of the Live Stock, which shows exactly how many orbs and items do we have.

All purchases mean at least 1% bonus, as it is the bonus value after you registered account. The bonus can reach even as much as 5% after crossing 2,500 USD turnover threshold. Our products discount packs are more than most of the e-commerce services will ever decide to give. No discount code needed - just sign up and get more while buying Vaal Orb, Chaos Orb, Exalted Orb, or any other.

You can feel like home here. Lots of users have already trusted us in wide variety games, just check hundreds of reviews our Trustpilot or Facebook profiles. We received thousands of testimonials from more than 5,500 Exiles willing to deal with us. The best POE orbs (currency) for sale only here! Our products are 100% handwork, which guarantees you will not suffer any punishment. The co-op with G2A PAY secures the payments. Nothing to be feared of.

Anything wrong? Go after one of the members of our terrific Live Chat support staff - a outstanding team of great people following the idea of help! They are well prepared and they will answer all of your questions, to improve your trading experience beyond imagination. We take care of our clients, as we are gamers providing for gamers. We understand the community needs and we do our best to meet them. We treat all cases equally, irregardless of circumstances.
PoE Orbs
Path of Exile currency, created by former developers of the legendary Diablo series - Grinding Gear Games, has a completely different approach to the in-game economy and exchange. The introduction of "orbs" was revolutionary. Instead of a single POE currency, PoE players can exchange consumable items between one another. Those items can be used to alter your current equipment (reforging it into different quality, changing the number of sockets etc.) or can be used as POE currency. The value of each orb is determined by rareness and NPC exchange ratios. There is more than one different type of orb with various effect and drop rates. The lower the orb drop rate and the higher its utility - the higher the price.
Due to the unique nature of trade in Path of Exile based on barter, you can trade for more unique items than just orbs.
POE Currency list
In this category, you will find every sort of "functional POE currency" (not only orbs). In general, anything that can be used to rework an item in the game while being treated as official currency is considered an "orb" in Path of Exile. Each function is different, and orbs do not share their features. PoE Orb drops depend on the game content you are currently doing, quests, and your levels. If you play on the highest level maps you will gain all sorts of ancient orbs and other ones. Just like other conquerors, you want to have every piece of advantage under your belt against bosses. Search no more! You're in the best place to buy PoE currency.
Awakened Sextant another currency unique item, that can be received for 3 Chaos Orbs and 1 Orb of Alchemy
Vaal Orb corrupts your gear giving it powerful (but at a cost) enchants. Once corrupted, the item cannot be modified ever again by any other orb. Vaal orbs can be corrupt.
Ancient Orb is used for reforging a unique item within the same class, for example one flask into another
Unshaping Orb can be used to downgrade your map
Harbinger Orb the opposite of Unshaping Orb
Silver Coin can be exchanged for a prophecy from Navali
Scroll of Wisdom identifies a piece of equipment
Regal Orb adds a new modifier
Portal Scroll is not a PoE orb but it creates a two-way portal to the closest town
Orb of Transmutation allows an upgrade of a normal gear into a magic gear
Orb of Scouring removes all modifiers from a gear
Orb of Regret grants you a passive skill refund point
Orb of Chance PoE orb that upgrades a normal item to a random rarity gear (even chance for a legendary if you are lucky)
Orb of Fusing This special orb can revamp links between the sockets on an item, restructuring it, enabling more configurations between socketed gems.
Orb of Augmentation give a magic item a new affix
Orb of Annulment PoE orb that removes a random modifier on an item
Orb of Alteration reforges magic items with a complete set of random properties
Orb of Alchemy According to wiki this orb does improve and upgrade a Normal item to a Rare item
Orb of Binding works similarly to Orb of Alchemy - it upgrades normal gear to rare with four sockets
Orb of Horizons - reforges the map into its equivalent of the same tier
Mirror of Kalandra - has the power to duplicate the gear. The mirrored item will be stripped of gems, but the base stats will remain unchanged
Master Cartographer's Sextant - this prime sextant gives a base map a new random mod
Master Cartographer's Seal marks labyrinth as "incomplete"
Journeyman Cartographer's Sextant - this simple sextant adds or rerolls a map modifier for a yellow or white Atlas of Worlds
Journeyman Cartographer's Seal marks yellow or white map as incomplete
Jeweler's Orb PoE orb that reforges the number of sockets (can't exceed the max available slots for the item. For example, gloves will always have 4, and Tabula Rasa Simple Robe 6) but does not change how it's linked
Glassblower's Bauble Modifies flasks making them better quality
Gemcutter's Prism This does apply an improvement to the gem quality
Exalted Orb This orb will change rare items with a new additional random modifier increasing its power; Exalted Orb is a powerful and much-wanted among all items, and probably the most widespread currency item
Divine Orb rerolls the new numeric modifier values of the random affixes on the item
Chromatic Orb conducts the processes of changing the socket color layout which increases your build options
Chaos Orb reforges a rare item with new random property. Chaos Orb can be looted from monsters, chests, containers, or Arcanist's Strongboxes. You can also get Chaos Orbs from full rare set vendors NPCs recipes.
Cartographer's Chisel Improves map quality into a better one
Blessing of: Xoph, Uul-Netol, Tul, Esh, Chayula upgrades a unique item from a breach to a more powerful version
Blessed Orb randomizes the numeric values on the implicit item modifiers
Blacksmith's Whetstone improves the quality of a weapon. If you can find an engineer or a smith, quick increase in power can be yours
Armorer's Scrap improves the armor quality.
PoE currency
All those PoE orbs can serve as a currency in PoE and take place of typical for MMOs, RPG gold coins, and everything else. You can exchange those orbs using official exchange PoE RMT websites and shops like currency.poe.trade or others like poecurrencybuy. For whatever reason, you need the orbs - purchasing gear from other players or rerolling the gem layout on your armor, it can take days or even weeks to obtain the right quantity, even if it's only a Tabula Rasa Simple Robe. Why don't you get yourself a rocket boost and buy Path of Exile items from sellersandfriends.com?

If you want more details on those orbs, visit PoE wiki. It's free and it does include gem builds, items divided by tier and more, it's most likely one of the most efficient ways for starting your PoE adventure on any of the classes, so it's worth taking a look. Learn strength of your class from the PoE masters that contribute to the Wiki, it will also help you to keep up with news, league start, class guides, crafting tutorials, and youtube creators. Just click here. Don't waste your precious time on figuring out stuff by yourself, save it for real life. For maximum efficiency boost your character in-game skill tree with our cheap orbs! But you have to hurry our hot sales are running out fast!
Our personal approach is why you won't have to worry about the state of your orders. Become a new star of POE! With years of experience in the game-currency trading market, Sellers And Friends can provide you with the second to none service (review rate 4.9/5) in the world whenever you want to buy Path of Exile currency. Here at sellersandfriends.com we take pride in our legacy and relations we have with our customers. That's why thousands of players all over the globe have already decided to trust us.
Are you a seller, farming, and mining those orbs on characters in new leagues? Looking for a website with high ratings that can pay money instantly for your product in EUR, GBP, or USD? Ask on Livechat and maybe we will be able to help you out. If you are not sure what expansion is our site supporting make sure to check categories on the sitemap.

We are open for 18 hours a day and we provide every customer with our full undivided attention. Every order, no matter how big matters to us all the same.
How to get Exalted Orb?
Orbs Exalted, due to their rareness, importance, and value, earned the role of the essential currency items in Path of Exile currency system. Many Exiles, who are yet to have access to high-end gear, tend to trade every Exalted Orb for equipment, instead of using it. With the implementation of Path of Exile patch 3.9.0, Exalted Orb can have a subtype. The game publisher, namely Grinding Gear, does its best to make sure that the game contents us, and PoE 3.9 update makes a hefty stirring in the gameplay.
| | | |
| --- | --- | --- |
| Exalted Orb type | How to get this Exalted Orb? | Usage |
| Crusader's Exalted Orb | TBD | Adds Crusader affix |
| Hunter's Exalted Orb | A drop from Al Hezmin, the Hunter | Adds Hunter affix |
| Redeemer's Exalted Orb | TBD | Adds Redeemer affix |
| Warlord's Exalted Orb | A drop from Drox, the Warlord | Adds Warlord affix |
The amount of data in PoE might be overwhelming for some Exiles, so here's a quick rundown on how to use an Exalted Orb:
- right click the Exalted Orb,
- left-click rare item to apply the Orb,
- shift click to unstack.
Keep in mind, that it removes 20% of the Quality from Catalysts. The orb stack size might differ slightly.
| | | |
| --- | --- | --- |
| Ingredient | Amount | Results |
| Exalted Shards | 20 | |
| The Hoarder | 12 | 1 x Exalted Orb |
| The Saint's Treasure | 10 | 2 x Exalted Orb |
| Abandoned Wealth | 5 | 3 x Exalted Orb |
| Alluring Bounty | 7 | 10 x Exalted Orb |
| Emperor's Luck | 5 | 5 x random currency item (can be Exalted Orb) |
You might as well trade the Mirror of Kalandra to a Town Vendor and get a stash an Exalted Orb or two, but it would be the worst trade deal in the history of trade deals due to horrific exchange rates. The regular orb price will never make trading with the vendor profitable. However, the best possible trade you could ever make is adding PoE Exalted Orb to your shopping cart, and enjoy the best prices.
Lastly, buying PoE Exalted Orb the easiest way to in case you want to obtain it. Selling the orbs to a Vendor will give you a Scroll Fragment. The fragments of Scrolls are also valuable since they give can give you Scrolls of Wisdom. What you should look for too, are skill gems, and support skill gems. They can be placed in sockets - red (strength), blue (intelligence), green (dexterity), and white. The ability to use these mechanics in combat will give a fantastic edge. However, do not confuse the nature of these active skills with spells or passive skills. These are an utterly different story. For a guaranteed drop of the desired PoE items incubators should be one of your choices. It might be helpful when grinding for the legendary Headhunter belt with its amazing mechanics.
Orbs are not the only currency items in the game, as there are also things called Oils. Putting them over a certain piece of equipment has a specific purpose - it gives an anointment. Oils drop from Blight Encounters, none of which should pose much threat during challenges. Currently, there are 12 of them.
Playing wisely around it all is key if you want to succeed in Wraeclast, especially considering that the UI navigation may be overwhelming in the beginning. However, we believe that with good stack of orb Chaos will become an Order, the Goddess will lie down upon you defeated, and you will be the first among many on the server. Buy unique orbs and get to action!
Is it safe to buy Path Of Exile orbs?
A true Exile bows to no-one. Jeweller's orb, Vaal orb or PoE Chaos Orb - you need it, we have it. Need orb divine on Bestiary Hardcore? Magic or rare items? Armourer's scrap? Unique items? Ask the Support - even if we don't have the gear in question we can make arrangements. We are experienced sellers providing services in new games (like Fallout 76) as well as some older titles like League of Legends, Albion Online, or Fifa 19. On sellersandfriends.com you not only can buy cheap PoE currency but also ask for armour, gems, weapons, maps, shield, and others. Thanks to our competitive prices and easy shop experience you can buy items in bulk and we will discuss discount individually. We support every player and every league. If you need any help regarding our offers or you want to negotiate a discount or a large order on a platform different than PC or if you want to inquire about other features on our site please contact our live support. If you have further questions regarding our store, how is it protected or overall transaction security you can always visit us on our Facebook. Under all circumstances, we'd like to avoid any misunderstandings during the trade, to provide you with a compensation should it be needed. SnF will never requires your password, names, or any other credentials, so be advised not to hand them over.
Our offer is also available on the page: MMOAuctions - Free POE Orbs Marketplace. If you wish, you can order power leveling there, or sell your PoE account for USD. They are professional trading platform that received tons of positive feedback. You should have an account registered there.
Copyright sellersandfriends.com, all rights reserved. For cookies policy and ToS ask the support.
Customers Reviews (10)
MOST HELPFUL REVIEW
I have played many games with RMT, Leage of Legends, wow, riders of icarus, ffxiv, revelation online, madden, maplestory 2, guild wars 2 - you name it! But never have I encountered such a good service!
31 October 2019
0 comments
Holy moly, got my exalts within seconds and even in my 1st order got a bonus! highly recommend!
12 May 2021
0 comments
What can i say more, outstanding service!
29 March 2021
0 comments
Great service, got my exalts right after the order!
25 March 2021
0 comments
They answer really quick via live chat. Outstanding delivery time
19 February 2021
0 comments
Frequently Asked Questions
How to get my Orbs?

All the trades are done in your hideout (accessible after Act 2). You will be invited to party, so we can teleport into the hideout and trade face to face.

What trade method we are going to use?

Prepare few Yellow or Orange trash items in the inventory to give in return for Orbs.

How long does it take to get my Exalted Orbs?

Usually, depending on circumstances, current Challenge League, and server PC latency it should take a few minutes, if it's done during our business hours.

Can I receive bonus orbs?

Yes, but only with bigger currency order. Ask our Agent for an individual offer, if you are planning a vast orbs order. We will add them to the stock.

What is Challenge League?

In Path of Exile the Challenge League changes a couple of times in a year, bringing something new and cool to the game. Leagues are the same for standard Xbox users, PS4, and PC. Delirium took place of the Blight League a while ago. Currently, we have:
- PC Harvest,

We do not support all Xbox and PS4 servers including:
- Xbox Harvest,
- PS4 Harvest.

They have hardcore and standard subtypes as well.

What currency can I pay with for PoE orb and other in-game goods?

We have cooperation with G2A PAY, who guarantee more than 80 convenient currencies with the most popular ones among them - USD, EUR, GBP, CAD, AUD, and more.