MapleStory 2 Mesos - buy MS2 Mesos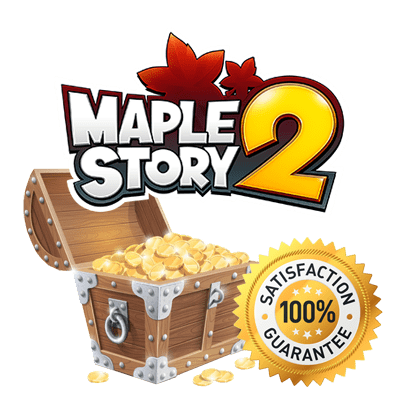 Sellersandfriends.com is a fast, safe, and reliable service making currency delivery in various games since 2012. Now we are supporting Mesos! Thanks to our live support and competitive prices we are able to deliver the best possible assistance. We have over 5500 happy customers and it is why you should choose our sale service (check our ratings on TrustPilot or Fanpage). Choose the cheapest Maplestory 2 Mesos on our store. We provide fast delivery of game currency. Satisfaction guaranteed!
How to get MS2 Mesos
It is simple - just select game from the top menu. Our clients say that we have the best customer service!
Everything that we do, is for your good experience and security. A secure transaction for MS2 Mesos is the most important for us!
Check list below to know how to make purchase on our site. To start shopping just follow this steps:
Set the amount of cash, the money you want to spent (no matter if it is USD, EUC, GBP, AUD)
Type the contact information - If you do not have the account it will be created automatically.
Add product to shopping cart by clicking "Go to checkout"
Read carefully your order preview, make sure is there no mistakes
Click on "Pay Now" and use your favorite payment method - we are providing credit cards and over 200 local payments via G2A Pay.
If your order is paid, our agent will guide you through the rest of the process.

The max two minutes delivery time during working hours is something, that our competitors will never get even close to. All across the world - from South America to far-east Asia - we deliver in less than 120 seconds. Outside of working hours, it also takes no more than 24 hours. Are you sick and tired of waiting for the delivery? Don't be! Come to us!

We provide every registered user with a minimum of 1% bonus to every transaction. It can grow up to 5%, if you stay with us long enough. Loyal customers get more!

As in every online business, here at SellersAndFriends we put safety first. The more our customers trust us, the better it is for all of us. For now, more than 5,500 players have put their faith into our services, and we didn't let them down. You can be one of them! Go in, check it out for yourself. It can't be more simple and safe.

Our Live Chat support has helped hundreds of clients already. None of them was unsatisfied. Dozens of questions answered, problems solved, faces smiling. Contacting us and providing us with a feedback is the only way to let us know we are heading in the right direction. It's the player base - you - that build our company.
Maplestory 2 Mesos - how to get them?
During your leveling, there is nothing much to do outside the beaten path. Stick to the main storyline and you will end up with a handful of MS2 Mesos and potions to play around with. Your main story ends at around level 50. The remaining ten levels is nothing else but grinding through dungeons. To be effective at the grind you should be doing thirty dungeons per week on multiple characters but that can get pretty boring pretty fast. Unfortunately, in MapleStory 2 grinding dungeons on multiple characters is tedious and incredibly boring. Save yourself from that painful process and buy MapleStory 2 Mesos cheap from a trusted seller on website sellersandfriends.com.
MapleStory 2 Market
Transactions in Maplestory 2 are done through the Black Market. While using this method we require our customers to set up items on the Black Market with a unique price (for example if you are buying 5000k set the item up for 5.012.345).
With your item set send a screenshot of the item to our agent on live chat and the agent will purchase the listed item. We are not covering the tax on market when trading coins maplestory
Another way is Face To Face. Using this method, we will require you to provide us with your Character Name, soon after you will receive a whisper from one of our agents asking you to meet at a certain zone. Please note that your character has to be above level 20.
For both methods, sellersandfriends.com are not covering the fees. We provide high-quality sales service. We give a discount to each order as a bonus MapleStory 2 Mesos. You will get more than the ordered quantity. Become a sellersandfriends.com member today to get promo codes and special deals!
Sellers and Friends are also providing Final Fantasy XIV, Runescape Gold services in both North and South America servers. If you are encountering any problems when buying coins MapleStory on Oceania Sycamore server, Hornbeam Europe and Paperwood US West server, contact our help center. Language barrier should now be a problem.
We do not provide power leveling or any illegal leveling and combat boosting services. Also, we do not support Xbox live or mobile versions of the game. We do not trade registered accounts, passwords or skins, epic pets or items. Prices for our transactions are set in USD, so if you want to pay with a card using EUR GBP, CAD, AUD or other currencies you have to make your own estimates as we don't take responsibility for the conditions and changes your bank can do to exchange rates.
We guarantee that our prices in the provided categories reflect the current version of the game. We are aware that the older the servers are the more MapleStory 2 Mesos people earn that's why we adapt to the changes constantly. So jump into MapleStory 2 adventure and fill your empty life with joy and with SellersAndFriends. We also offer a stock of PoE currency, Albion Online silver and other game currencies. Just sign up, place your order and use our products in your gaming journey.
We also invite you to read news on our blog. Every day we are preparing great content which you can easily search by Google. You can also use a link to our blog from the top menu where you find links to the full articles.
MapleStory 2
MapleStory2 is a unique free-to-play MMORPG from Korean studio NSquare (a result of cooperation between Nexon and NCSoft). The game was released on 7th July 2015 but only for the Korean market and only recently it has been released for the west as well. Here you can trade safely MapleStory 2 Mesos.
The game is set in the "Maple World" when heroes can defeat monsters and develop their characters just like any typical role-playing game but in a unique, colorful and cartoony setting. The second title in the series carries over most features from the original but on a new 3D engine with voxel-based graphics. Mesos is the main currency in the game.
Players can create a character and pick one of several available jobs that will help them in the exploration of Maple World. Maple Story is a cheerful game with lots of social activities but doesn't be fooled by bright colors and upbeat music - Maple World is run by a single force - mesos, the official currency of Maple World.
Our offer is also available on MMOAuctions - Free Maplestory 2 Mesos Marketplace
The SellersAndFriends brand marks are the properties of their respecive owners. Copyright 2019.
Customers Reviews (5)
MOST HELPFUL REVIEW
Ok
17 October 2019
0 comments
Service website is astounding unlike other sites I've seen. And the great feedback from the community is a plus as well! Nice to see a very well-kept and trusted service!
15 October 2019
0 comments
Just used their services for the first time and I am very happy with the service. Very fast and reliable services. I highly recommend these guys! Cheers!
1 September 2019
0 comments
I would recommend this site ! fast and amazing delivery
8 August 2019
0 comments
Amazing, fast and cheap!!
30 March 2019
0 comments
Frequently Asked Questions
Payment completed. What now?

In the lower right corrner of the website there's a Chat online where our agent is waiting for you to give you the delivery instructions.

How the Mesos will be delivered?

Over the years online we have developed the most efficient delivery system. Once the payment is done, our agent will approach and suggest the best delivery method, suitable for both the seller and the buyer.

Is it safe?

Safety is the foundation of our business. We wouldn't ever do anything, that would put our customers and their transactions at risk.