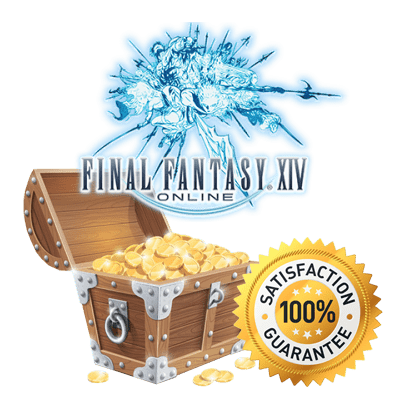 Final Fantasy XIV Gil
Final Fantasy XIV, like any other MMORPG, operates on an in-game currency. Final Fantasy XIV Gil is your main resource to do… basically anything in the game. Since having lots of FFXIV Gil opens many doors, players are constantly looking for new ways of making that extra cash. So if you were looking to buy FFXIV Gold, you may be surprised, as Square Enix had a different idea in this department - it's FF 14 Gil that you can get.
How to buy FFXIV Gil?
If you are looking to buy FFXIV Gil, all you need is to follow these six steps:
Choose the amount of Gil you want to purchase or the amount of USD you have to spend
Review the contact details
Continue with the purchase by clicking "Checkout with G2APAY".
Verify the information in the order preview
Select a payment method
Our live agent will guide you through the rest of the deal

We believe that players should have the ability to generate more resources for their favourite games. So we created a service from which you can purchase Gil for your FFXIV journey. And we just happen to do it 18 hours every day, with a delivery time of about 120 seconds.

Each registered user has a 1% bonus available to him. Signing up is everything that one needs to receive the reward. It can make to 5% in time, if the user keeps trading in high volumes. At our website the bonus is added to every transaction, not only the big ones.

Tons of positive feedback on our TrustPilot and Facebook pages speak for itself. Sellers and Friends are one of the most trusted and experienced virtual currency vendors available. Why is that? We always check our sources and avoid dealing with exploiters and botters no matter how good their selling offer is. We are always using the safest possible method to ensure fast delivery you the item because your security is our reputation! We will never ask you for your log in data, email, or password, so keep it safe and do not share with anybody. We are the only seller here, so no fraud is possible. Purchase FFXIV Gil on SellersAndFriends!

Need any help with the mobile version of the site? Got a question regarding credit card payments, items, how trade is made and how secure the transaction is? Got an inquiry about accounts sale and item prices or maybe you need your G2A code verification? Open chat and one of our professional shop support staff is here to help all gamers!
FFXIV how to make Gil
If it's your first time in the game you might ask yourself - how to make the cheapest FFXIV Gil early? Well, the main story quests will award you some nice starting bonus but once you reach endgame you will soon find out that it's not enough.
After reaching level 50 many options open up for making Final Fantasy Gil but you will soon find out that all of these methods require tedious grinding. If you are a Disciple of War or Disciple of Magic, you can grind mobs over and over to sell materials to crafters. Each server however has it's own quirks and needs so you need a lot of "inside info" to know which materials are worth grinding. You could also endlessly grind dungeons, for example, Ampador Keep is a good source of Tomes of Philosophy you can exchange for more expensive crafting materials.
As a Disciple of the Land, your character is very effective in obtaining mined resources and is quite an effective process of making Final Fantasy XIV Gil, if you want to spend your play time running around the map looking for rocks that is. Gathering Elemental Shards as Miner can quickly earn you some Gil even at level 1 profession. The botanist can also bring you quite a buck but requires some leveling up and the demand is not that high. Fishing is most likely the lowest-earning Earth profession you can pick up. Tedious farming for days may not be the hot MMO action everyone desire, but every gamer, no matter the platform, will appreciate the cheap, easy, and cost efficient gathering.
The last but surely not least is becoming a crafter or Disciple of the Hand. This is where you can make some good money but it requires all your free time dedicated to developing your crafting skills. An old proverb says "a whole is more than just a sum of its parts", which is very true for making Gil in FFXIV. But to become a successful crafter you will need some starting money to purchase expensive materials to turn them into something special.
Buy FFXIV Gil
Every player wants to reach the endgame content fast, have the best equipment completed, and finally have the experience of the true game. If you are not the kind of person that is keen to endless grind just to have few minutes of actual fun there is also the last option - make someone else farm Gil for you! Thanks to Sellers and Friends services, you can buy FFXIV Gil and save your free time for the actual gameplay. Bad news - no buyers will refund you the time wasted. The event called "life" is only one, spare it's span that you would normally dedicate to grind. Skip this process.
Sellers and Friends are the right place for buying cactuar.


SellersAndFriends.com has been in the currency trading game for years and it's a brand you can trust. Get your Gil today, with fast delivert and save your precious time for the fun parts of the game!
Get your gaming to the next level, change the game and become the best with sellersandfriends.com, one of the highest rated currency sellers on the internet. Games we provide service at do not include FIFA, Fortnite, Aion, Rift, World of Warcraft, RS3, NFL, NBA, Warframe, Dofus, Ultima Online, Hades Legacy, Legend of Asura, Steam-based games and Heroes of Legends. Also, keep in mind that we are trading using the market method and we do not trade with trial accounts so you don't have to worry about the security, just fill your shopping cart.
Frequently Asked Questions
How to buy Final Fantasy 14 Gil?

Choose the amount of Gil that you need. Select the payment method, pay for the product, and wait for our agent.

How is the Gil delivered?

During working hours, it will appear on your account in few minutes. We will suggest the best possible delivery method, whether it's face-to-face, mail box, or the market.

How do you guarantee safety?

We acknowledged all the ins and outs of every game, that we trade in, for we are also players. We know exactly how to trade, to not risk anything.

Can I buy other games currencies?

Sure. Check the list at the top of the website to see, which games do we provide with currency.

What if I want higher Gil quantity, than you have on the stock?

Every buyer can go to the Live Chat and request for more, than we have on the Live Stock. We will collect the Gil quick and send a notification or a personal message. Any customer is free to negotitate the products price using bulk purchase.