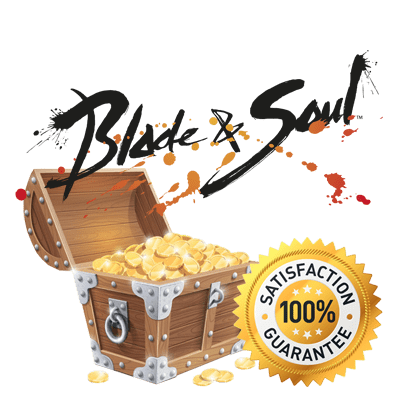 Looking to buy some gold in Blade and Soul but you have doubts about the safety? Here at Sellers and Friends transaction security is our number one concern! We are using the safest gold delivery possible to ensure both sides can avoid any unpleasantries that may result from deals like this. If you still have your doubts just visit our profiles on Trustpilot and our Facebook profile to see hundreds of satisfied customers around the world. If you do not knot how to buy Blade and Soul gold, we will always help you via LiveChat!
How to buy Blade and Soul gold safe?
If you are looking to buy BnS gold fast, all you need is to follow these six steps:
Choose the quantity of Blade and Soul gold you wish to purchase or the amount of USD you have to spend
Check the contact details - if you do not have your free account we will create it automatically
Continue with the purchase by clicking "Go to checkout"
Verify the information in the order preview
Select a payment method
Our live agent will guide you through the rest of the deal
Blade and Soul Gold with Fast Delivery
Once you buy gold by placing an order on our website please open up the live chat to proceed with the delivery. We require you to have a character with enough level and power to kill monsters solo in the lowest level dungeon in Blade and Soul. To do the trade we will invite you into a lobby and enter the dungeon, once a rare quality item drops we will pass gold to you through the bidding system. This method is the most secure one and allows us to deliver on every server.

Sellers and Friends are veterans of the gold-trading industry. On the market, over many years we have delivered in-game currency to thousands of players around the globe. Fast and secure! We provide competitive prices, live agents, fast and secure delivery on all Blade And Soul west servers. We have real time stocks!

On top of that, we have the best trade bonus in the e-commerce. Each transaction will give you 1% more from the start, going up to a maximum of 5%. We appreciate loyalty more than anyone in the business.

We know how important safety is for our customers. "Is it safe to buy BnS gold?" questions rise many doubts in players' minds. We resolve everything with thousands of satisfied customers, hundreds of feedback reviews, stacked TrustPilot, and Facebook page. We leave Swiss banks far behind with our safety.

All this busy-work requires a lot of time and turns a game, that is supposed to be fun, into a second job. Thanks to SellersAndFriends customer service you can now buy BnS gold and save yourself from all the needless grind so that you can actually enjoy the game.
Looking for a site where you can buy your BnS gold?
Blade and Soul gold it is the main currency in the game called also BNS. Blade & Soul it is fantasy MMORPG developed by Korean Studio NCSoft. The game was released in June 2016.
Blade and Soul it is the open-world environment. Players create characters, makes a quest with NPC, exploring the world and with using martial arts based combat system.
In the game, we can see a real battle system in the third person camera which is known better from fighting games. The characters in the game are highly customizable. Players can fight in PvP battles combats in end-game. In the game, there are four playable races. Blade and Soul coins it is possible to get among others by farming or killing field bosses.
Blade and Soul
Blade and Soul is a martial-arts focused MMORPG game developed by Korean studio NCSoft. Release in Korea in 2012, after a long wait this amazing IP finally shipped to western markets on January 2016.
Blade and Soul features a unique, hybrid non-target combat system inspired by eastern martial arts. Set in an open world of The Earthern Realm (which is a feudal fantasy alternative world heavily inspired with eastern style and architecture).
In Blade and Soul, players can choose one of four races (Gon, Jin, Yun, Lyn) and one of eleven classes, each with unique spells, combinations, and utilities. As in any other MMORPG, having lots of in-game currency can get you far, unfortunately, Blade and Soul does not spoil its players with coin.
There are multiple ways of earning Blade And Soul gold. You can do all your daily heroic dungeons and sell the rewards. You can spend hours flipping auction house (buying cheap selling high). Do all the weekly dungeons. Sell tradable materials. Buy items off the trade chat and sell them on the auction house.
Our offer is also available on MMOAuctions - Free BNS Gold Marketplace
Customers Reviews (4)
MOST HELPFUL REVIEW
Trust these guys! made me rich in seconds!
9 June 2021
0 comments
Everything was great, trust these guys!
21 May 2021
0 comments
bought couple times, great and easy. Highly recommend
13 May 2021
0 comments
best service so far period
19 March 2021
0 comments
Frequently Asked Questions
How to trade in Blade and Soul?

Just like any other game on Sellers and Friends. Choose the amount of currency, fill in the form, and let our agent do the job.

Where do I get help?

Head straight to bottom right to our Live Chat support. They will help you with everything regarding the trade, delivery, terms of service, etc.

How is the currency delivered?

The safest possible way. We treat every case individually, so we will talk about the best way of delivery with you.

Why is it safe?

It is because over the years of trading in-game currency, we have learned, how to provide you with the currency from legal, legitimate sources. It has to be safe for us to maintain a high