Buy ArcheAge Unchained Gold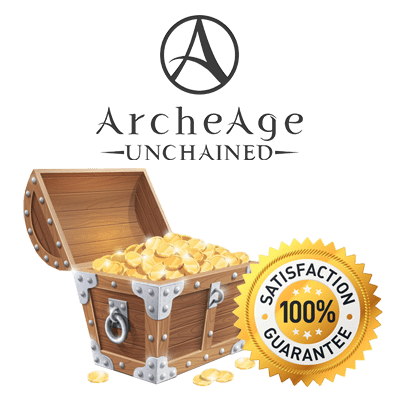 ArcheAge Unchained is a buy-to-play version of popular ArcheAge. Since its release ArcheAge Unchained managed to gain impressive popularity, with server queues reaching even a couple of hours! Who would have thought, that the game that was said to be dying, can still have such a renaissance? The buy-to-play edition is supposed to have enhanced gamplay and graphics. Is is the developers way to make it up for the players for the original ArcheAge's flaws. Here at Sellers and Friends we guarantee the best ArcheAge Unchained content, cheapest items, lowest prices, and everything what's good for your in-game character.
We've recognized the boom and hype around the game, and we are here to provide you with the best offers to buy ArcheAge Unchained Gold possible.
How to buy ArcheAge Unchained Gold?
Buy ArcheAge Unchained Gold has never been easier. Just follow these steps:
Select the amount of ArcheAge Unchained Gold you're interested in, or the amount of money you'd like to spend

Choose the payment method

Fill in the form and verify your contact details

Double-check if everything is correct in the order preview

Make the payment.
After all these steps are complete, all left for you is to wait for our live agent to approach you and finish the trade.
Be careful, as refund is not guaranteed.

We have Live-Stock here, so that you can see how much of the currency we currently possess. You can choose any value, and after you pay for it, we will deliver in less than 120 seconds if it's during the work hours. We are open for 18 hours a day, so it is a maximum of 6 hours of the downtime, that you will be waiting for your currency. If this is not a fast delivery, then we don't know what is.

Earn something extra with a 1% bonus just for registration! Keep trading and wind it up to 5% bonus! If they say that nothing is free, they lie, because it is here. We take care of not only the transaction, but we also take care of our customers satisfaction.

Safety is important, which is why we provide you with all the tools to earn your trust. We have received countless positive opinions on TrustPilot and Facebook, and more feedback is coming in day after day. You are free to check it for yourself.

In case of any sort of troubles (which most likely will never occur), we have a professional Live Chat support prepared for anything. They will help you out with your transaction, account, prices, payment (but they will not pay for you), and all that you want. They are kind, helpful, and patient, so feel free to bother them.
We do our best for you to buy ArcheAge Unchained gold in the most efficient, comfortable, and safe way. If you have any suggestion or queer submit it on our TrustPilot, Facebook, Twitter, or via support. We'd like to receive your opinion about our work, your experience with our products, and how does it look like from the customer's point of view. If there is anything, that we can improve, we will do it.
Our offer is also available on MMOAuctions - Free ArcheAge Unchained Gold Marketplace.
Wait no more! Have a glance at our products, fill in the shopping cart, purchase your item from dreams, enjoy the low price and how cheap can you improve. Bring the good news to your friends, and ivite them to trade here. Let them become Sellers and Friends too.
All rights reserved.
Customers Reviews (2)
MOST HELPFUL REVIEW
Best service out there!
15 June 2021
0 comments
I needed some gold and came across SnF, bought waied for like around 3 minutes and gold arrived on my account! strongly recommend!
16 March 2021
0 comments
Frequently Asked Questions
How can I get the Gold?

First, you need to make an order and pay for it. Then, contact us through Live Chat for delivery purposes. We will explain to you the delivery method we will use.

When are you available for delivery?

We're online during our business hours European time zone (8am - 11pm GMT+1) - with some breaks during the day. Don't hesitate to contact us also through order message system.

What's the origin of the Gold?

We have got quite a big community of suppliers in AA. The gold mostly comes from market sales and trade runs.

Which currencies do you accept?

We are cooperating with G2A PAY, so we have the most used currencies available, namely USD, EUR, GBP, AUD, CAD, RUB, SGD, TWD, HKD, CNY, JPY, and many more.