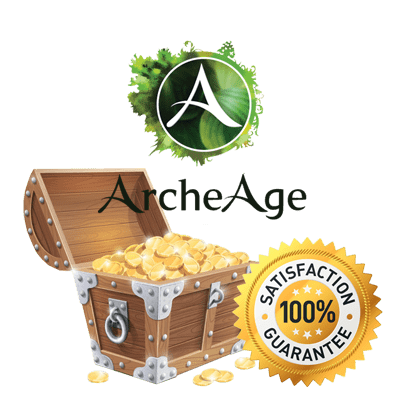 Searching for Archeage gold? Sellers and Friends are your ultimate destination for all your online currency needs. SellersAndFriends is a professional Archeage Gold Seller. How do you know it is safe tho? Apart from having our word that we check every supplier you can also check hundreds of positive comments from satisfied customers around the globe on sites like Trustpilot or Facebook. Stop asking how to get ArcheAge Gold. Just buy ArcheAge gold safe from SellersAndFriends!
How to buy ArcheAge Gold for sale on SellersAndFriends?
Looking for buy ArcheAge gold? Choose SellersAndFriends the best ArcheAge Gold Seller! Just follow those easy steps:
Decide on the amount of gold you want to buy or the amount of money you want to spend
Pick a payment method and correct server
Review the information in your contact details
Verify information in the order preview
If everything seems to be in order, press the "Send Order" button and our live agent will guide you through the rest of the transaction

Our competition stand no chance! We have the fastest delivery time of all. If we have the desired product available on Live-Stock, it can be delivered to you in less than 120 seconds! See for yourself how simple that is.

1% bonus to all transactions from the start! It is another reason to trade ArcheAge Gold on SellersAndFriends. The bonus can go up to 5% permanently, if you trade enough. There is no better option for professional traders.

We provide safety for all transactions. SSL protocol, plenty of positive TrustPilot reviews, community feedback, it all comes to one conclusion, that you are safe to trade here.

Feeling confused? Worry not! Our 24/7 Live Chat support will gladly help you overcome any difficulties on your way to best trades in gaming world! They have already helped countless members of SellersAndFriends community, and they will not stop, until all of them are satisfied.
If you are a classic ArcheAge fan and devoted player, then you have found yourself in the best place. It is not true, what they say about the game. ArcheAge is very well alive, and there is a considerable demand for ArcheAge gold. Why would you stay behind all of the players who already bought the currency?
Our offer is also available on MMOAuctions - Free Archeage Gold Marketplace
Frequently Asked Questions
How is the Gold delivered?

The most efficient method of delivery is through mail. Mail can be sent to both East and West faction in AA. Sometimes with bigger trades we're also doing Face2Face trades.

How long does it take to get Gold?

Usually 5-30 minutes if bought on a server with stock available (during business hours 8 am-11pm GMT+1).

What if there is no Gold in stock?

You can always pre-order Gold and we will inform you through mail when it's available for purchase.